Blue came into our rescue program on August 19, 2005. Blue is a 5 year old, Gray, Thoroughbred Gelding. Blue was starved and abandoned by his previous owner. We do not have all the details, but we do know that he had some angels watching over him, because he was found. Blue has wounds all over his body from head to toe. He had become so weak that he would get down and then thrash and injure himself trying to get back to his feet. What we currently know is that this beautiful boy was a previous racehorse. His previous owner was deported back to Mexico and the horse was left in a stall to starve to death. Fortunately, he was found before it was too late and he is now on the road to recovery. This baby is going to need a lot of TLC and plenty of good nutrition and vitamins in order for him to build his strength back up. He has shown signs of Colic and we have been keeping a constant eye on him, he is still pretty weak and his teeth are in bad shape leaving him with several sores in his mouth. He is the most gentle baby and is so patient with me while I clean and treat his wounds. He is getting several very small feedings a day and seems to have a good amount of spirit left. Blue's story sounds very much like one of our previous rescue's named Tiny. Of course, he made a full recovery and is living the life of Riley in Kansas. We will pray for the same results for Blue. He deserves so much more than what he has received and we will do everything possible for this sweet boy to recover.

If you would like to help in Blue's recovery, please consider making a donation in Blue's Name Today.

Update, August 22, 2005. We have learned additional information about Blue and where he came from. I want to start off by saying that these horses are not property that can be discarded after they no longer produce. They have feelings, they bleed just like we do. These horses give their lives to us and do as they are asked for us. They love back and all they want is to be accepted and taken care of. Blue did not deserve what has happened to him. He was fortunate enough to be found and saved, but I am left wondering how many more have been thrown away and left to die. I hope that justice will be served to his previous owner someday. He should have to pay for what he has done to this beautiful horse.

Blue was born in Louisiana in March of 2000. His former name was Scuppernong. He had a very successful racing history. He started racing in 2002 and his last race was in December of 2004. Blue started 18 races and successfully placed first 5 times, second 1 time, and third 3 times. His total winnings equal $58,247.00. The last known auction that the Jockey Club has record of was in 2001, where Blue was sold for $5000.00 as a yearling. Five years later, where does he end up? He is now racing to stay alive at our Equine Rescue. If you ask me, you can't put a dollar amount on that.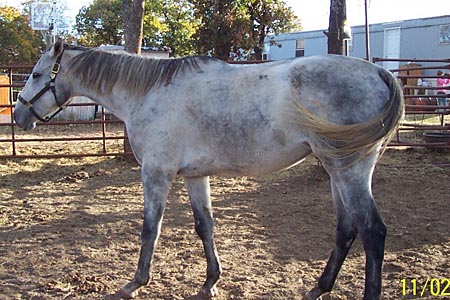 Update 11-2-05 Blue is doing well and is gaining weight nicely. We have been treating several abscesses that have been appearing in his front feet. So far, nothing out of the ordinary when we have emaciated ex-race horses that come into our rescue. Blue is a sweet boy, gentle giant and gaining weight well. He still needs to gain more but there is progress. He looks great compared to the day that he came to us. We will update more when he is fully recovered. We do have a lot of applications already placed on Blue and we will start evaluating those in the next couple of months.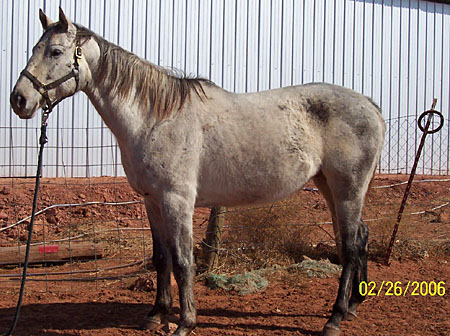 Blue has been adopted to a wonderful family in Glencoe, Oklahoma. This family was one of the first applicants to apply to adopt Blue and have patiently waited until Blue was ready to go to his wonderful forever home. Blue has a great new family that loves him and was very excited to bring Blue into their family. We were thrilled that Blue had such a happy ending. He will be missed by many here at the rescue.