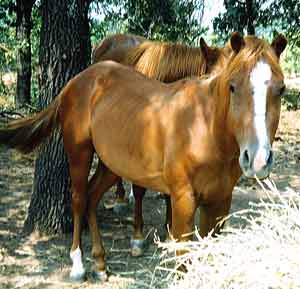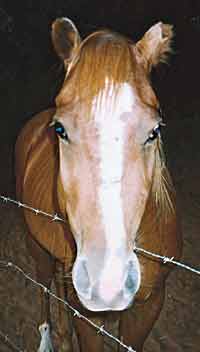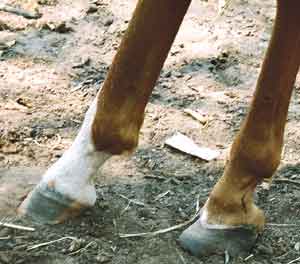 Freedom came to Blaze's Tribute in late June 2003. Freedom's previous owners surrendered him, due to no longer being able to care for him. That was more than obvious when we saw him. Freedom was extremely neglected in more ways than one. He had been starved nearly to death and upon arrival at the vet's for an exam, we found he had been suffering from not one but three complications. According to the Vet, Freedom was born in the winter and lost half of his ears to frost bite. He had also suffered from an injury resulting in his jaw being dislocated.

Freedom will have to have three teeth removed and one tooth filed down every six months, due to constant growth. He also suffers from an injury to his left hind leg. His hoof is shaped as a club and he walks directly on his bone. We will have to be creative and build him a cushioned boot in order to alleviate pain from the pressure on his bone. I guess you could say that he suffers from a double-edged sword – for every pound he is able to regain, it applies more weight and pressure to his foot.

Freedom is estimated to be 5 years of age, and unfortunately, is not blessed with a long life expectancy. He will eventually wear the bone down and become lame. We hope to make his life a little more bearable and hopefully free from pain. Freedom could be available for adoption as a companion animal only, otherwise, he will live out his life here at Blaze's Tribute Equine Rescue.

Freedom was recently accepted into a wonderful foster home in Maud, Oklahoma. A week later the family decided that they couldn't dream of letting him go. So, we are now happy to announce that Freedom has found his forever home in Maud, Oklahoma. Freedom is receiving much love and relaxation, a perfect match indeed.
If you would like to Donate or Sponsor a horse in our care please Donate here.