Tonka came into our rescue program on December 4, 2005. Tonka is an extremely cute Palomino Gelding Pony, estimated to be around 11 years of age. Tonka is a sweet little guy, but hasn't received any care for his hooves. Tonka's hooves are at least a foot long in length and are in desperate need of repair. As unbelievable as it sounds, Tonka walks well. We have not confirmed, but was told that Tonka knows how to drive and is broke to ride. Tonka will make someone child a perfect little pony. We plan to have the Farrier out Monday, December 5, 2005. We will get Tonka's feet taken care of and make sure that he hasn't foundered. This is a super sweet boy and deserves a loving forever home of his own. As soon as Tonka's feet are under control and we receive a current negative coggins, vaccinations, and deworming he will be ready for adoption. This is a super little pony and would make someone an excellent little horse.

Applications Accepted for Adoption.
Adoption Fee $400.00.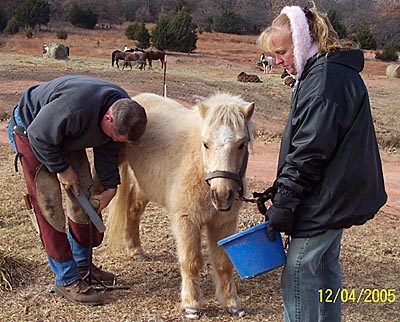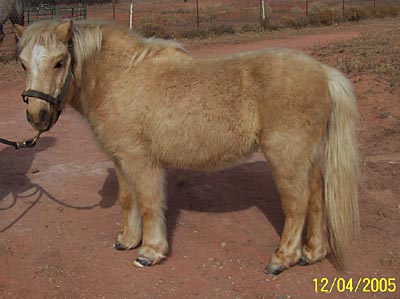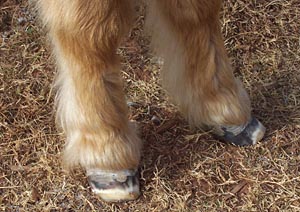 Update December 5, 2005: Tonka has new and improved feet! We had our wonderful Farrier, Mark Bartley out today to trim and repair Tonka's feet. Tonka was such a trooper and never fused about any of it. He stood like a perfect little gentlemen and hung in their with us until the very end. Tonka's feet was much worse than you would imagine, his hooves curled under and covered his frog. But, by the end of the trimming Tonka's feet looked normal and he was actually standing on his heals. Granted Tonka will have to continue to have his feet trimmed at least every 6 weeks, but they will in time be 100% normal again. Luckily, he has not foundered through all of this. We estimate that he hasn't been trimmed in at least 4 years. He is a wonderful little pony and such a sweet doll. I think that we were the ones that was blessed when he came in to our rescue program. I couldn't have been happier for little Tonka to be normal again. I am sure that he will be running through the pasture in a matter of days.

Picture is of Farrier, Mark Bartley and Volunteer Debbie Benton.
Tonka has been adopted to a wonderful family in Wister, Oklahoma. Tonka will be very loved by a 5 year old boy and the rest of the family. Tonka is a sweetheart and finally has that loving forever home to call his own.